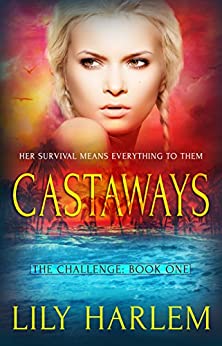 Castaways
The Challenge #1
Contemporary, Reverse Harem
October 15, 2017
ebook
234
Kindle Unlimited

Olivia Bailey is up for The Challenge. Why the heck wouldn't she be? With mariner qualifications piled high, engineering experience to rival someone twice her age, she's ready to take on the mighty Pacific Ocean and win.
But what about her fellow crew? Five guys, four nationalities. A billionaire's heir who likes to take charge in every aspect of life, an outback expert with a heart-stopping smile, a Spanish chef with mouthwatering moves, and sexy twins who reveal themselves slowly, until it matters, then they act fast.
An adventure was what Olivia wanted, it's certainly what she gets. Because things at sea happen in a heartbeat, friendships grow, tempers heat and desire flares.
But what about when it all upends?
When the unexpected happens? Will they pull together, or will fear drag the crew of Temptress apart?
-Amazon
What would you do if you were marooned on a remote island with five handsome dudes? Wait, you don't need to share intimate details! LOL!
Lily Harlem's Castaways was one of the good getaway reads. It's a story worth reading when you're craving a spicy beach adventure while snowbound in your home.  I didn't think I would have liked it as much as I did. I mean, I do love a good reverse harem. My nagging mind kept whining, "Hey, this book won't be good!" I silenced my inner thoughts and read it anyway. Castaways is a decent start to a six-book series.
The book stars Olivia, who has surprisingly been accepted to join The Challenge crew. The team's goal is to sail from Los Angeles to Sydney. It all sounds pretty good until Olivia and the crew wind up on an island smack dab in the middle of the Pacific Ocean. While the crew adjusts to their new surroundings, Olivia's relationships with her team heat up.
While I did like the forced proximity situation, everything went a tad too fast for me. I was expecting Olivia and her hot harem would be on the island for a long time, just enough to establish legit relationships. Two days into the island (not really but it feels like it), Olivia is doing the naughty with the Outback expert. K, cool!
I was expecting more story obstacles. Perhaps an oncoming hurricane might threaten the crew's lives. The cook gets sick, and Olivia has to whip up medicine from the island's native plants. Maybe one of the dudes in Olivia's harem set fire to the ship on purpose for some dark reason. You know, something.  At least there were plenty of spicy moments. Can't complain about them!
However, how Olivia and the gang finally left the island…was way too easy. Once you read the final act, you would be scratching your head as much as I did.
Overall, I still liked the book. I'm glad I have read it. Despite its minor flaws, I would recommend it to anybody who is into reverse harem, especially ones set in tropical islands.
Someday, I might continue this series. Who knows?
I can't wait to see what adventures await Olivia and her men. Apparently, Olivia gets lost in Africa in one of the books! How the heck did she end up there?  Guess I have to read to find out!
Previous reviews: 
(Gifs via GIPHY)