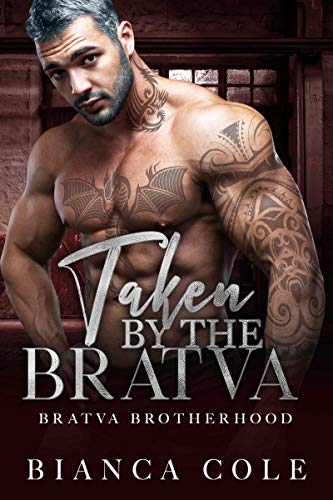 Taken by the Bratva
Bratva Brotherhood #5
Mafia, Dark Romance
August 28, 2020
eBook
Kindle Unlimited

He's supposed to protect me, but he does the opposite.
The morning of my arranged marriage, I'm snatched by my bodyguard.
The man who has spent the past year protecting me. 
The man I've secretly craved since he was assigned to me. 
The man who won't tell me why he has kidnapped me. 
There's a darkness in his eyes I've never seen in them before. 
I fear him as much as I long for him. 
Now I'm alone with him, feelings I've tried to ignore return.
He has my heart in the palm of his hand, but will he crush it or claim it? 
I'm not going to lie; I was put off at first to read Bianca Cole's Taken by the Bratva. It was a dark mafia romance, meaning it was going to entail some dark situations. The male lead would be unpleasant, and the female lead would be wrapped in some horrible, squeamish situations. Not my cup of my tea (lol)!
However, after reading The Faceless, what could go wrong? Besides the attractive cover (wow, that model), I ended up wrapped in Cole's book.
A Forbidden Romance
Kira is a woman trapped in a gilded cage, doomed to be engaged to a man she loathes by her heartless uncle. Pavel is a bodyguard working undercover for a different gang. His growing attraction to Kira dissolves his duties. He winds up brewing up more trouble by kidnapping Kira. Unknowingly, it's the best thing that has happened in Kira's life.
What would you do if you knew someone you loved was forced into a loveless marriage? You'd kidnap them too, right?
I don't blame what Pavel did. It was the right decision. Pavel was the tattooed angel Kira needed in her life, well-deserved.
Kira is no withering princess. Despite her dangerous obstacles, there are moments where she had to stand up for Pavel. The author made sure Kira's character development was evident in this story. I approve!
Taken by the Bratva Makes You Want More
Although this book is the concluding volume in the "Bratva Brotherhood" series, it was the first book I've read. You can read it as a standalone.
Now, I want to go back to the previous books to feel more complete:
I'm still surprised I've actually enjoyed this book. I was expecting myself to put it aside for something much lighter. Even though there are some violent scenes, I'd rate it as PG-13 violent.
I recommend Taken by the Bratva for readers who love dark romances, mafias, and fine alpha males with Russian accents.  Speaking of mafias, Bianca Cole has a Boston and New York mafia series you should check out too.
I'm happy I found something new I like to read now!
Want more like this?
(Eastern Promises gif via Pinterest)
(Book Gif from GIPHY)
(Book cover from Amazon)