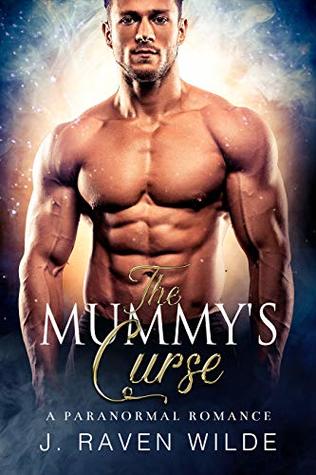 The Mummy's Curse
The Mummy's Curse series
Paranormal Romance
Twisted Crows Press LLC
March 8, 2018
eBook
92
Kindle Unlimited

My friends and I had won a trip of a lifetime to see the treasures of Egypt, You know, the pyramids, the Sphinx, the Valley of the Kings. Our tour guide, Tarrick drives us around Egypt, showing us all the famous sites, giving us a history lesson along the way. For me, it was a dream come true. Until my friends asked to see the real treasures of Egypt in hopes of snatching it up.
Tarrick happily complies, but there's only one problem — the hidden treasure he wants to show us comes with a mummy's curse. I didn't want to go, but then, I wanted a chance to see it from an archeological perspective.
Now, I'm staring at the one whose treasures we were disturbing. I thought mummies were supposed to look deteriorated and … dead. Why does he look like he was a sculpted god of marble and … alive? The way his hungry eyes roam my body... He looks like he wants to devour me. Would I survive whatever he had planned to do with me? 
-Amazon
The Mummy's Curse gave me weird vibes, but J. Raven Wilde had an intriguing premise. College student Laney and her buddies win a spring break trip to Egypt. Sounds cool, right? I would love a trip to Egypt right now.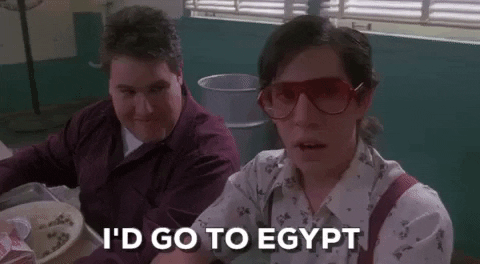 The story slowly takes a turn on WTF avenue when Laney meets the revived mummy Serkhet.
I was expecting The Mummy's Curse to be a hotter version of The Mummy (1999) (or the 1932 classic if you prefer) set in the modern times. It had its "hot" moments, but I felt it missed its potential mark, well for me anyway.
There were moments where I was like, "Okay, this is interesting. This is hot!" Other times (about 75%), I was thinking, "What the f*ck is this?"
Here's why I had such conflicting attitudes towards Wilde's The Mummy's Curse.
*WARNING: SPOILERS AHEAD*
1. Laney Gets Down with a Killer Mummy

If you knew your mummy lover killed your friends, would you still make out with them? If it were me, I'd forget about the hot mummy and find a way back to America.
Bump him. Rude!
While Laney took Egypt as an opportunity to explore its ancient history, her friends thought of it as a grand treasure hunt. They were planning to steal from Serkhet's tomb. Serkhet killed them by absorbing their energy to restore himself.
Laney's friends weren't the greatest, but they weren't so horrible to deserve death. You don't witness their deaths in the pages. Serkhet only mentions it when he meets Laney:
"'I needed their essence to make myself whole. However, I'm still in need for more,' he said, voice dropping to something huskier. His lips trailed up the length of her neck."
The whole scene wasn't the right moment for a mummy to seduce anybody, especially after killing people they cared about. Of course, Serkhet was so hot Laney ran into his arms in a hot flash.
2. If He Erases Your Memory, He Doesn't Love You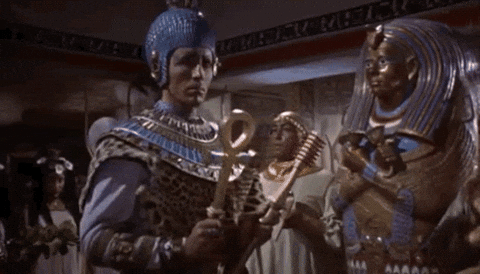 Laney wakes up with memory loss after her first rump with Serkhet. She slowly regains her memory of last night's events.
What I don't get is Laney believing she has a deeper connection with him after she realizes Serkhet was the one who erased her memory.
"A spark of electricity rushed through Laney's body and straight to her core as she remembered every detail of that night she shared with Serkhet. Last night. She wasn't angry at him for erasing her memories anymore, as now she understands why. And now that she remembered, she wanted to return to him. He was magnetic, something pulling her to him even after his magic was separated from her."
Um, what?
Overall, Serkhet did have legit reasons (I suppose) he put Laney under a spell to forget him. Still, I'm not sure anybody would fall from lust to love for anybody who uses them for sex energy then erases their memories of the event. It just feels…off.
Maybe I'm overexaggerating. I mean, anything goes when it comes to paranormal romance.
Conclusion
Despite my problems with The Mummy's Curse, I'm interested in reading what happens next in the sequel: The Sorcerer's Curse. I have a feeling it might be better than the original. I'll let you know if that's the case.
I'd recommend reading The Mummy's Curse at your own risk. I'd expected plenty of sensual Ancient Egyptian action, but not like this. Expect the unexpected.
Related Reviews:
(Book pic: Goodreads)
(Gifs: GIPHY)