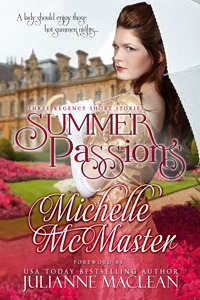 Summer Passions
Seasons of Love #1
Historical Romance, Regency
Amazon Digital Services LLC
July 31, 2012
eBook
77
Kindle Unlimited

Three Delicious Regency Short Stories
"A lady should enjoy those hot summer nights..."
For three lovely ladies in Regency England, the long, hot summer holds the opportunity for decadent pleasures, wicked pursuits, and forbidden passion. -Amazon
Missed out on a pleasant summer romance? Summer Passions will give you the summer heat you dearly missed.
Author Michelle McMaster surprised me with three lovely short stories. Seriously, I picked up this book thinking it was one, big story (I need to pay more attention to summaries). Summer Passions includes Cupid's Dart, Lady Ashton Takes a Lover, and The Wedding Party.
Cupid's Dart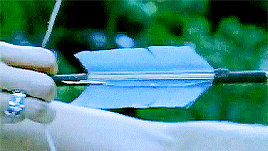 "Shooting the notorious Marquess of St. Clair with an arrow was the last thing Daphne Summerville had planned to do. Yet there he was on the ground, rolling about and clutching his leg, growling and glaring up at her.

'Damned hellion – you shot me!'"
What a way to start a love story meeting your future husband. Daphne becomes a nurse to the infamous playboy Sebastian St. Clair after shooting him accidentally during a birthday party.
Daphne never was in favor of the Marquess' womanizing ways despite his devilishly handsome looks. Sebastian never paid much attention to Daphne.
With the arrow accident bringing the two together, Sebastian considers renouncing his lover boy lifestyle to remain with Daphne for the rest of his life. Hopefully, Daphne feels the same way for him.
Lady Ashton Takes a Lover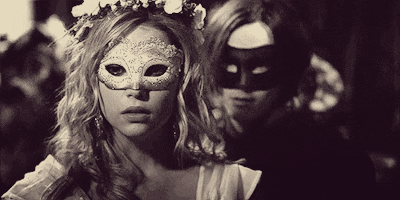 Lady Clarissa Ashton joins her friends for a hedonistic masquerade party to take a summer lover. At first, she's hesitant on the idea, but she's honestly lonely AF:
"Heaven knew her husband was never to be found. Lord Ashton held a high position in the War Office. His work was exceptionally important, his missions a matter of national security. Which was why his wife spent most nights at the luxurious Mayfair townhouse alone."
Clarissa meets a stranger who catches her eye. His identity will surprise you. My favorite line from the mysterious, sexy stranger:
"If you find my body desirable, you should use it to sate your passion, my lady. Tell me what you want and I will do it. I am your devoted soldier, awaiting his orders."
This short story was my top favorite in Summer Passions.
The Wedding Party
Althea was invited to her former fiance's wedding (ouch). She asks her late brother's best friend, Hayden, to be her escort (and fiancé) to the party.
"Most certainly I shall bring along a set of pistols in case Lord Wyndham challenges me to a duel.

Althea was shocked. 'Do not jest about such things, Your Grace.'

'I do not jest, Lady Althea. If I am to pose as your fiancé, I must be ready to defend you from unwanted admirers.'"
The Wedding Party is for those who love the "fake lovers to real lovers" story tropes. I liked Althea's little revenge plot. It turned out well.
Conclusion
My only complaint: these great stories were too short (in a good way). I'm happy to have found a new favorite author. I can't wait to read the other books in the Seasons of Love series: Autumn Desires, Winter Fire, and Spring Seduction.
Relive the summer love with McMaster's Summer Passions. Bonus points to regency readers! The book is filled with summer romances you'll never forget.
Have you read Summer Passions or anything from Michelle McMaster? Recall any regency romances worth reading?
Recent Posts: