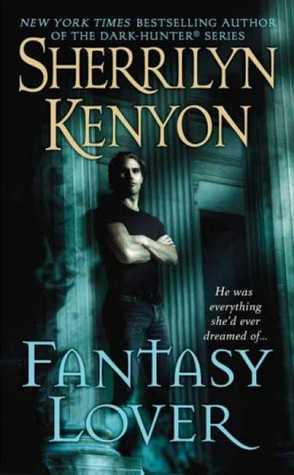 Fantasy Lover
Dark-Hunterverse #1
Paranormal Romance
St. Martin's Press
November 28, 2006
Mass Market Paperback
337
Library

Dear Reader,
Being trapped in a bedroom with a woman is a grand thing. Being trapped in hundreds of bedrooms over two thousand years isn't. And being cursed into a book as a love-slave for eternity can ruin even a Spartan warrior's day.
As a love-slave, I know everything about women. How to touch them, how to savor them, and most of all, how to pleasure them. But when I was summoned to fulfill Grace Alexander's sexual fantasies, I found the first woman in history who saw me as a man with a tormented past. She alone bothered to take me out of the bedroom and onto the world. She taught me to love again.
But I was not born to love. I was cursed to walk eternity alone. As a general, I had long ago accepted my sentence. Yet now I have found Grace--the one thing my wounded heart cannot survive without. Sure, love can heal all wounds, but can it break a two-thousand-year-old curse?
Julian of Macedon
The first book I've ever purchased from Sherrilyn Kenyon was The Dream Hunter. I started reading it until I discovered Kenyon had a grand series of Dark-Hunterverse books. I wanted to start with those first with Fantasy Lover.
Fantasy Lover is about Grace Alexander, a sex therapist, who accidentally summons a handsome, naked Spartan warrior from a cursed book. His name is Julian of Macedon. Aphrodite has cursed him as an immortal love slave. Whoever summons Julian is his owner for a month.
Once the month is over, he returns to the book. Grace resists Julian until she falls in love the more she learns about him. Aphrodite's curse threatens Grace and Julian's developing relationship. Grace has a month to figure out how to break the curse.
The same owner can't have him twice. It could be ten, a hundred, or a thousand years before somebody else finds the book and summons him again!
Despite the whole "falling in love within a month" scenario, I thoroughly enjoyed reading Fantasy Lover. I was taken by the New Orleans setting.  Love that city!
Plus, I was attracted to Kenyon's original use of magic and the Greek gods' personalities. I usually visualize Aphrodite as a tender goddess but Kenyon portrays her as a tough cookie. Beautiful, yes, but cold. Oh yeah, and her son Eros is part of a motorcycle gang!
If you love romances with doses of Greek mythology and hot warriors, Fantasy Lover is the best match for you! Read this first if you want to get started with Kenyon's books. I'm looking forward to reading more of her books in the future. I'm ready!
Which Sherrilyn Kenyon books have you read? Have any favorites?