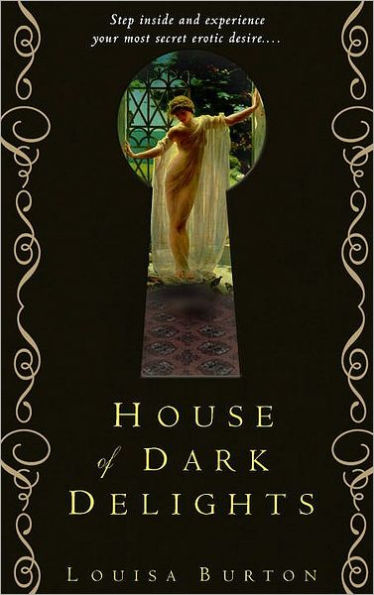 House of Dark Delights
The Hidden Grotto Series
Erotica
Bantam
January 30, 2007
Paperback
324
Purchased copy

In this extraordinary debut, Louisa Burton extends an irresistible invitation to an erotic adventure that is quite literally out of this world. You're hereby invited to spend a night you'll never forget in the . . .House of Dark Delights
Nestled deep in the French countryside, hidden from prying eyes, stands an infamous castle that for centuries has lured guests with its whispered promise to make any erotic dream come true. Inside its walls you'll discover a world of sensuality, magic, and mystery, courtesy of the château's residents—beautiful and reclusive immortals who strive to fulfill their guests' most secret desires even as they pursue their own insatiable gratification... 
Tired of the same old, contemporary erotica? Looking for a story with some spicy fantasy flair? Dive into Louisa Burton's House of Dark Delights. This delicious story will satisfy an erotic reader's appetite! It features elves, satyrs, and more mythical beings you can imagine (sorry, no centaurs).
Burton's tale takes place in France at the Chateau de la Grotte Cachee, a centuries-old castle hidden deep within the countryside.
Only a few and the wealthy know of its location. The reason: its magical residents. Human guests don't realize they've come as meals for them as they feed off their sexual energy. Don't worry, they check out feeling much better than before.
As you read House of Dark Delights, you'll uncover the chateau's history. The book features four stories all tied together from the past to the present:
A young scholar accidentally uncovers the castle cave's carnal secrets.
A troubled relationship between two tennis athletes transforms during their stay at the castle.
A female member of the infamous Hellfire club retrieves the ultimate punishment she desires.
A genderbending elf helps a rising Celtic druid find a way to be with his lower-class lover and continue their family line.
The book is full of yes in my erotica department.  It has attentive plots, interesting characters, and the right amount of blush-worthy moments. Burton has delivered a sensual adventure you'd never want to leave.
Thankfully, Burton has written three more books in this series:
Bound in Moonlight (2007)
Whispers of the Flesh (2008)
In the Garden of Sin (2009)
Who's ready to read more? I am!
Any fantasy erotica you'd recommend?
Past reviews: