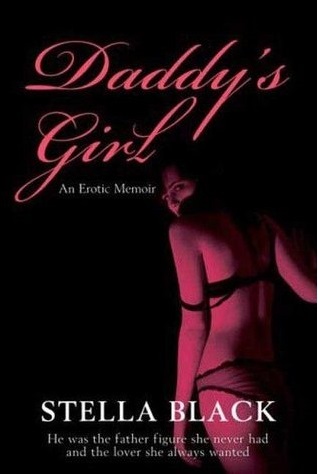 Daddy's Girl: An Erotic Memoir
Erotica
Virgin Books
August 1, 2007
Paperback
240
Purchased copy

"As a young, wild society girl, she met the perfect figure and embarked on a taboo-shattering, uninhibited, and intensely erotic journey with a man she only ever referred to as Daddy. Their role-play fantasies walk the line between the transgressive and the sensual, continually challenging the reader to examine their responses to the action unfolding. Sad and funny by turns, the beauty of the narrator's voice arises through the simplicity and poetry of Stella's observations." -Amazon
Stella Black's Daddy's Girl reminds me of Requiem for a Dream. The book reads like a downward spiral of bad decisions and unfortunate circumstances.
Fact: Daddy's Girl is a memoir. The characters' names have been altered, of course.
Stella, our main girl, breezes through life with sex, drugs, and parties until she meets "Daddy."
Daddy is your typical older British gentleman loaded with money. Little is known how he gained such wealth besides inheritance from his deceased parents.
WHAT I EXPECTED
I was expecting more from Daddy's Girl. I imagined glamorous travel adventures and a blooming relationship between Stella and Daddy through their role-playing. Both had their unresolved issues. Wouldn't it be nice if they shared their feelings?
Daddy and Stella shared some hot moments in the first few chapters. Eventually, it led to a series of tasteless (sometimes appalling) sex and Stella's abrupt temper tantrums.
I don't know if Stella's was distraught or she was playing her little girl part. She would explode at Daddy for some minor reason, leave his estate, and have one-night stands with barely memorable characters. Meanwhile, Daddy calls Stella, begging her to come him. Reading these scenes was painful. I felt bad then I questioned why Daddy couldn't get her himself.
At this point, I was wondering what kind of book I was reading.
THE CHARACTERS
The characters had their extremes. On one side, you forgot about them. The other, you'd remember them for the wrong reasons.
Daddy introduces Stella to a creepy, touchy-feely artist for a portrait painting. Why the creepy artist of all people? Those were some unsettling chapters.
Next, Daddy surprises Stella his young (not too young, mind you) male lover from South America. He played the "little boy" part. This guy was worst than Stella. Not only did he hosted unexpected parties at Daddy's estate, but he would also steal his possessions for drug money. Even worst, he almost killed him.
See how I've picked up the grim Requiem for a Dream vibe?
CONCLUSION
I highly recommend reading another book besides Daddy's Girl. This book was not my cup of tea. However, if you enjoy erotica with this concept, please proceed with caution!
Stella Black has written other erotica: Stella Does Hollywood and Shameless. Are they better than this one? The reviews share similar responses I had with Daddy's Girl.
Think I'll leave Stella Black's books alone for a while.
Any erotica leave a bad taste in your mouth? Read a few good ones? Comment down below!
Related posts: