Hot and Badgered
The Honey Badger Chronicles
Paranormal Romance
Kensington
March 27, 2018
Paperback
432
Library

It's not every day that a beautiful naked woman falls out of the sky and lands face-first on grizzly shifter Berg Dunn's hotel balcony. Definitely they don't usually hop up and demand his best gun. Berg gives the lady a grizzly-sized t-shirt and his cell phone, too, just on style points. And then she's gone, taking his XXXL heart with her. By the time he figures out she's a honey badger shifter, it's too late.
Honey Badgers? For Real?
Now here's something I haven't heard of before reading Hot and Badgered: honey badger shifters. You got your wolf shifters, your jaguar shifters, but honey badgers? Not so much.
Welcome to Shelly Laurenston's latest shifter romance series: The Honey Badger Chronicles.
What's Going on Here?
Berg, a bodyguard bear shifter, falls for a honey badger shifter named Charlie. She's on the run from what it appears to be everybody trying to kill her and her two half-sisters.  Charlie's father Freddie MacKilligan is a massive screw-up. He is a knack for bad deals and owing impatient clients (and family) millions of dollars. The MacKilligan sisters are trapped in the butt end of Freddie's troubles.
What's worse? Freddie doesn't give a damn if his daughters lose their lives over his nonsense. He wanted sons anyway. That's why the girls have male names: Charlie, Max, and Stevie.
Berg kindly offers Charlie his help only to dive into this pretty honey badger's hectic world.
More Crazy Than a Honey Badger on Crack
Hot and Badgered started off well. I liked the MacKilligan sisters' mixed breeds. Charlie is half honey badger/wolf, Stevie is an uncontrollable honey badger/Siberian tiger, and Max is half honey badger and…and…crap, I forgot!
Anyway, the story's premise starts off smoothly until it turns into a clusterfudge of plot WTF. There's something about a wedding the sisters must save from total disaster, stopping their father, and a whole bunch of side characters you'll try to remember. You're not sure if 75% of the characters are essential or not. While reading, I was asking myself, "Who was that chick?" or "Who was that lion shifter?"
There was little romance in Hot and Badgered. Honestly, I wondered if Berg and Charlie were "together" or merely friends with benefits. There was one steamy love scene deep into the book, and that was it. No chemistry though, no build-up. I felt their "love" scene was more to release their shifter animal urges than anything else.
Berg and Charlie had only one, true date (sort of) until a wolverine shifter intervened. Yeah, boo to that.
Should You Read Hot and Badgered?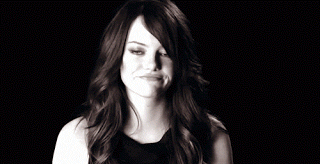 I stuck with Hot and Badgered to the end only to know how it ended. It was okay, not satisfying, but okay.
Go ahead and read this if you're familiar with Laurenston's books. This book was my first. Reading it made me feel like I've entered the wrong party. I went along with it anyway.
Despite the overwhelming amount of characters you're supposed to keep up with, I liked Laurenston's diverse shifter world. If you don't have time for the kind of crazy I've read in this book, feel free to stop reading.
On the other hand, I'm contemplating on reading the sequel. It features Stevie MacKilligan and a handsome panda shifter bodyguard. Yeah, you read that right: panda shifters.
Looking for more reviews? Read:
(Gifs: GIPHY)